Best Event Management in Kochi
Melodia Event Management is your gateway to spectacular events in Kochi! Are you looking to turn your dream event into a mesmerizing reality? Look no further! Melodia Event Management is here to elevate your celebrations to new heights. With our exceptional expertise, we will provide the best event management in Kochi, and the most sought-after experiences are just a heartbeat away.
Why should you choose Melodia Event Management in Kochi?
At Melodia, we know that every event is unique, and we pride ourselves on tailoring our services to match your vision perfectly. As the premier event management company in Kochi, we take care of every intricate detail, allowing you to revel in the joy of your special day.
The cornerstone of Melodia Event Management's success lies in our ability flawlessly plan and execute every event. Our team of experienced managers have all the abilities and skills to design your event successfully.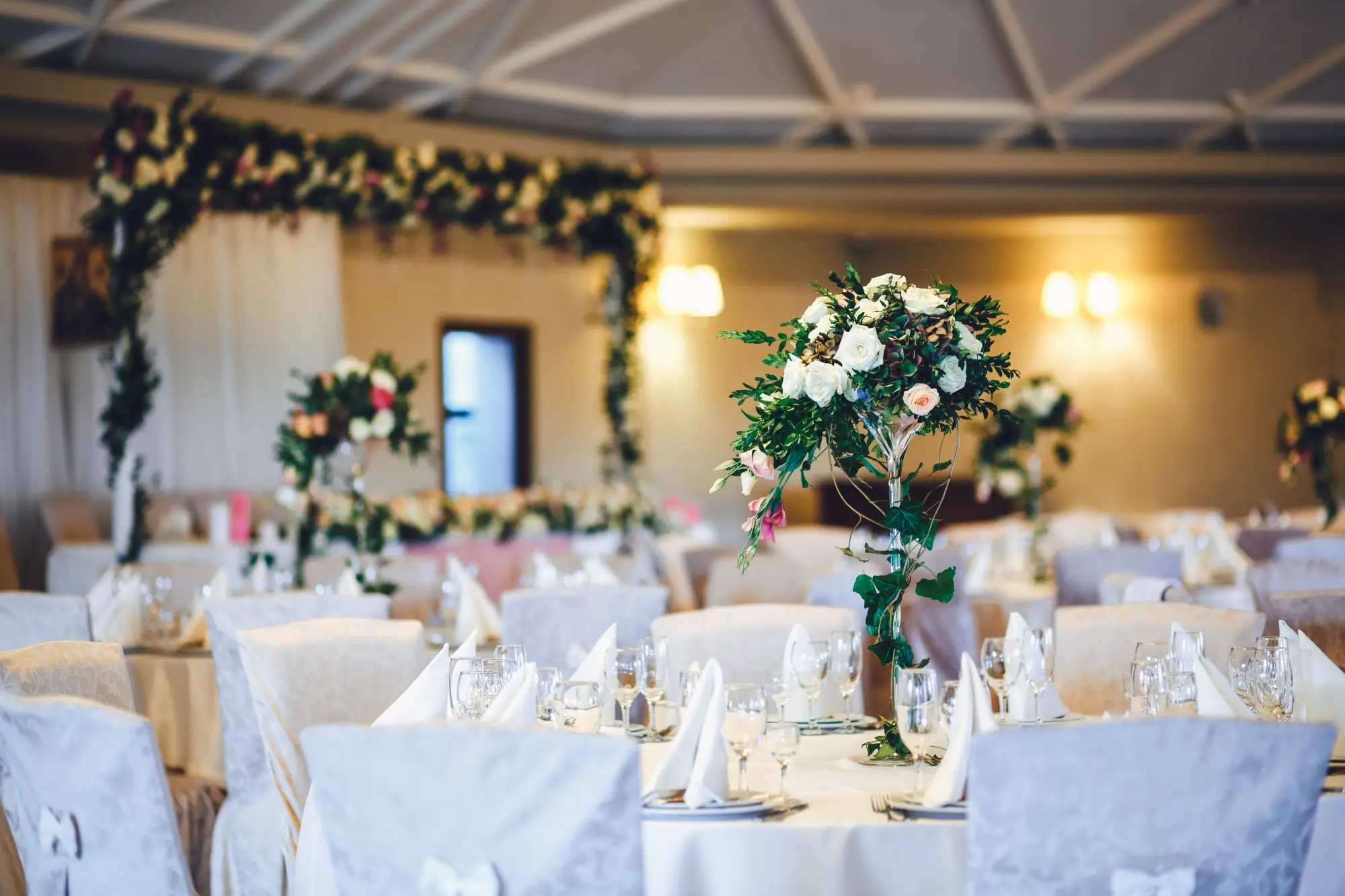 Knowing that every occasion and the preferences attached to it are different, we take relevant steps to fully comprehend your needs, and goals and then create results that exceed expectations.
We methodically organise every part of the event with a firm grasp on the final goal. Concepts are carefully thought out as we select the venue, catering, décor, entertainment and other peripherals to your taste.
Scheduling is another critical aspect of event planning, and we excel in creating a well-structured timeline. We meticulously organise each segment of your event, from the arrival of guests to the main program, speeches, performances, and more. Our best event organisers make sure that the plan is feasible as they account for the travel time, setup needs and visitor flow.
We oversee every detail, ensuring that all elements are set up as planned. Our expert team of the best event management in Kochi is adept at handling last-minute changes and unforeseen challenges with poise and efficiency, ensuring that your event runs smoothly without any hiccups. Our managers closely collaborate with you, updating you about the development and involving you in every decision-making process. Client happiness is our highest priority, and we strongly believe in teamwork and transparency.
Melodia event company professionals manage the execution on the day of the event leaving little space for mistakes.
Relax and take pleasure in attending the specially curated event just for you. Melodia Event Management in Kochi is your very own event planner, standing out as the best in the business. We undertake rigorous planning, fully focusing on the details, and dedicate ourselves to providing high-quality results.
Best Event Management in Kochi: A World of Possibilities
Nestled in the heart of Kerala, Kochi is a city brimming with cultural richness and vibrant energy. Its historical charm, stunning backwaters, and lush landscapes provide the perfect backdrop for extraordinary events. Melodia Event Management company harnesses the beauty of Kochi, infusing it into your celebrations, creating memories that will be cherished for a lifetime.
Whether you're planning a destination wedding by the picturesque backwaters, a corporate gala amidst the city's contemporary marvels, or a themed party that exudes Kerala's unique essence, our  expert team of best event management in Kochi will bring your vision to life. With our deep understanding of the city's venues, culture, and suppliers, we ensure that your event embraces the true spirit of Kochi.
All the details of the event are handled by us, so that you can concentrate on making wonderful memories. Attend to the guests, and free your mind of planning hassles. Enjoy the comfort that comes from knowing that experts are handling every aspect of your event. Trust Melodia Event Management company to bring your vision to life and make your event a resounding success.
Unparalleled Creativity:
We have a tendency of creating captivating experiences that can blow anyone's mind. The team of artists that we employ is distinctive, highly creative and curate unique surroundings while taking into account your preferences. We create magnificent settings that mix innovation and elegance to capture the essence of the theme.
Comprehensive Services:
Planning and executing a best event management in Kochi involves a multitude of elements coming together seamlessly. That's why we offer a comprehensive range of services designed to take care of every aspect of your celebration. With our dedicated team by your side, you can relax and enjoy the occasion while we handle all the details.
Venue Selection: Choosing the perfect venue sets the stage for your event. Our experienced event planners work closely with you to understand your preferences and requirements. Whether you envision an elegant ballroom, a stunning outdoor event location, or a unique unconventional space, we scout, evaluate, and recommend the most suitable venues in Kochi. We negotiate contracts, coordinate site visits, and ensure that the venue aligns with your vision and budget.
Theme Development and Decor: We believe that a well-executed theme can transform an event from ordinary to extraordinary. Our creative team specialises in developing unique themes and concepts that reflect your personality and event objectives. We curate every element, including decor, lighting, floral arrangements, and props, to create an immersive experience that captivates your guests and brings your vision to life.
Catering: Delight your guests with a delectable culinary experience. Our event managers collaborate with renowned caterers to design custom menus that suit your preferences and dietary requirements. From elegant plated dinners to interactive food stations and creative dessert displays, we ensure that every bite leaves a lasting impression. Our best event team handles menu planning, tastings, and coordination, ensuring that the catering seamlessly integrates with the overall event design.
Entertainment: Elevate the atmosphere of your event with exceptional entertainment options. Whether you desire live music, DJs, wedding dancers, or unique performances, we work with a curated selection of talented artists to provide captivating entertainment that matches your event theme and ambiance. Our team of the best event management in Kochi takes care of artist coordination, technical requirements, and sound and lighting arrangements, ensuring a seamless and unforgettable entertainment experience.
Professional audio-visual:
Events have a greater impact when audio and visual effects are added to them. Modern sound systems and projection technology along with lighting schemes can add special effects that can completely change the look and feel of the entire venue. This enhances the mood of the place and leaves your guests mesmerised as we display multi-coloured digital rays, images and other aspects to the scene.
Guest Management: We understand the importance of creating a warm and welcoming experience for your guests. From RSVP management and guest communications to seating arrangements and on-site coordination, we handle all aspects of guest management. Our team ensures that your guests feel valued and attended to throughout the event, leaving a lasting impression of hospitality and excellence.
Logistics and Vendor Coordination:
Logistics is a crucial component of event management, and we handle it with utmost precision. Our team manages all the logistical details, including transportation, accommodation, technical requirements, and equipment setup. We work closely with our vendors and suppliers to ensure that everything is coordinated seamlessly, allowing you to focus on enjoying your event without any worries.
Behind every successful event are seamless logistics and effective vendor coordination. All vendors are known to Melodia and vice versa. As a well-known name in the industry, our networking is tremendous and we make sure that all suppliers are present on time and make the event seamless.
Melodia Event Management in Kochi is your one-stop-shop event planner, providing an extensive range of services. We are committed to making sure that every facet of your celebration is done appropriately while you unwind and take complete advantage of the moment.
Let us handle the details while you create beautiful memories with your loved ones. Trust us to deliver an extraordinary event that exceeds your expectations.
Expert Vendor Management:
With our vast network of trusted vendors, we source the finest services and products to enhance your event. From renowned caterers to skilled wedding photographers, talented performers, and state-of-the-art equipment, we bring together a dream team of professionals who share our commitment to excellence.
Stress-Free Experience:
Organising an event can be overwhelming, but with Melodia Event Management, you can bid farewell to stress. Our expert event planning team takes care of the nitty-gritty details, allowing you to be fully present and savor every moment. From handling logistics and troubleshooting to managing unforeseen circumstances, we ensure a seamless experience for you and your guests.
Contact Melodia Event Management Today!
Ready to embark on an unforgettable journey? Contact Melodia Event Management Company today, and let us weave magic into your upcoming event. Whether you have a clear vision in mind or need guidance to shape your ideas, our dedicated team is here to listen, plan, and execute an event that surpasses your wildest dreams.
Experience the excellence of best event management in Kochi deserves with Melodia. Together, let's create a symphony of unforgettable moments that will reverberate through time. Trust us to make your event an extraordinary masterpiece!
Melodia Event Management is the name that resonates with unparalleled creativity, flawless execution, and the commitment to transform your vision into reality. Let us be the conductor of your dream event. Contact us now!
Do you have any other questions?